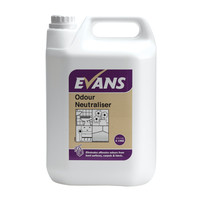 click image for larger view


Product rating:








Part number: AIR191

£16.20 inc. VAT

Description

Evans Odour Neutraliser is a highly effective and quick acting odour neutraliser and deodoriser with a bacterial effect. Will eliminate offensive malodours including urine, vomit, smoke, perspiration, rancid food and pet odours, with the added benefit of killing a range of bacteria. For use on hard surfaces, carpets and fabrics and within dustbins.
Features & Benefits
Contains odour counteractants.
Quickly eliminates malodours.
Kills bacteria, passes EN1276.
Ready to use formulation.
Suitable for use of a variety of surfaces.
Fresh pleasant wild berries deodorising perfume.
Contains a pH of 5.5.
Also available in ready to use 750ml trigger sprays.
Sold individually.
Full case pack size - 2 x 5Ltrs.
How to Use
Use undiluted.
For areas with an established persistent problem spray the surface liberally to ensure the odour is digested.
For more recently contaminated areas, spray the offending material to help neutralise the immediate odour. Remove as much of the solids by dustpan and blot urine with a paper towel.
Spray the surface once again liberally and allow the product to overcome both the malodour and its cause.
FREE DELIVERY ON ALL ORDERS OVER £100 NET VALUE