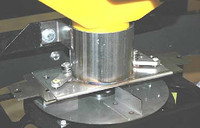 click image for larger view


Product rating:








Part number: ROC213

£95.86 inc. VAT

Description
The Magnum BL 240, S575P and S1075P Flow Gate Controller - An accessory that can be fitted to all Magnum spreaders and allows the user to set the flow rate based on the material being spread providing total flexibility and control. Ideal for use if switching between rock salts and then to ice melts or finer granular salt.
Features & Benefits
Suitable for use with the BL 240, S575P and S1075P Salt Spreaders.
Sold individually.
FREE DELIVERY ON ALL ORDERS OVER £100 NET VALUE