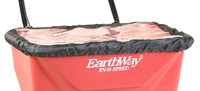 click image for larger view


Product rating:








Part number: ROC220

£46.49 inc. VAT

Description
The Ev-n-Spred 2130/ 2040pi Raincover Kit is a clear see through lid that covers the spreaders hopper, keeping the salt or ice melt dry from the elements such as rain, wind and snow. Simple and easy to install and remove.
Features & Benefits
Suitable for use with the Earthway Ev-n-Spred 2130 Spreader and Earthway Ev-n-Spred 2040pi Spreader.
Sold individually.
FREE DELIVERY ON ALL ORDERS OVER £100 NET VALUE