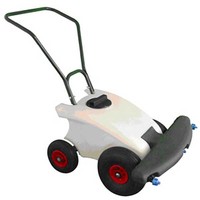 click image for larger view


Product rating:








Part number: ROC143

£1121.47 inc. VAT

Description
The Neptune Liquid De-Icer Spreader uses wheel driven pump technology, that allows the liquid sprayer to deliver a controlled de-icing dosage to the ground via jet spray nozzles, offering a 1m wide effective spray width. The nozzles are calibrated to a fixed application rate of 400Ltr/ha, which equates to a coverage of 625m² from the 25Ltr tank. The spreader is recommended for use with any liquid ice melt.

Features & Benefits
Large 25ltr storage capacity.
Ideal for use with any liquid ice melt.
Suitable for de-icing large areas quickly such as car parks, paths and walkways.
1m spray width.
Sold individually.
FREE DELIVERY ON ALL ORDERS OVER £100 NET VALUE