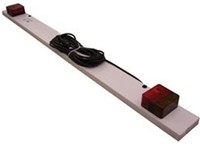 click image for larger view


Product rating:








Part number: ROC217

£94.45 inc. VAT

Description
The Magnum BL 240, S575P and S1075P Road Kit. The Magnum road kit includes a lighting board and fixings to attach to the Magum trailer. Enables you to take the Magum trailer and Magnum salt spreader on to a road. Must also be fitted with a replica licence plate.
Features & Benefits
Suitable for use with the BL 240, S575P and S1075P Salt Spreaders.
Sold individually.
FREE DELIVERY ON ALL ORDERS OVER £100 NET VALUE