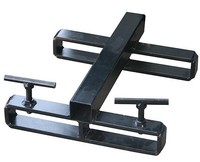 click image for larger view


Product rating:








Part number: ROC214

£479.56 inc. VAT

Description
The Magnum BL 240, S575P and S1075P Fork Lift Mount - An attachment that provides the versatility of fixing any of the Magnum Spreaders to a forklift truck, ideal throughout the winter period when ice or snow is on the ground. Ideal for use in distribution centres, warehouses, dockyards and builders merchant yards across the UK.
Features & Benefits
Suitable for use with the BL 240, S575P and S1075P Salt Spreaders.
Sold individually.
FREE DELIVERY ON ALL ORDERS OVER £100 NET VALUE