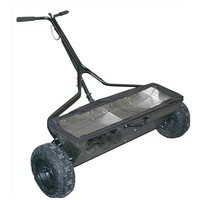 click image for larger view


Product rating:








Part number: ROC211

£1828.15 inc. VAT

Description
The Magnum Stainless Steel Drop Spreader is ideal for spreading various materials, such as rock salts and ice melts, on walkways, paths and anywhere you need exact material placement. The hopper and major components are constructed using corrosion resistant stainless steel. The spreader drops salt, sand and 50/50 mixtures of salt and sand with ease.
Features & Benefits
Stainless steel.
Inverted V hopper shape and even flow distribution.
Adjustable material flow.
In-built salt crusher.
Heavy duty winter tyres.
Rain cover included.
Sold individually.
FREE DELIVERY ON ALL ORDERS OVER £100 NET VALUE