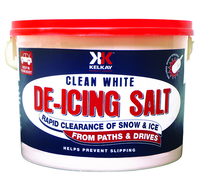 click image for larger view


Product rating:








Part number: ROC180

£8.47 inc. VAT

Description
KelKay De-Icing Salt is a clean, white, pure salt designed for the rapid clearance of snow and ice from paths and driveways. Helps prevent slipping during wintery conditions. The product will also ensure you do not have any unsightly brown marks trodden in to your entraceways and carpets which may occur when using other brown rock salts or sand based products.

Features & Benefits
Comes complete with a handy plastic scoop for distributing.
Ideal for keeping in the boot of the car for emergency situations.
Sold in 7.5kg re-sealable tubs.
FREE DELIVERY ON ALL ORDERS OVER £100 NET VALUE