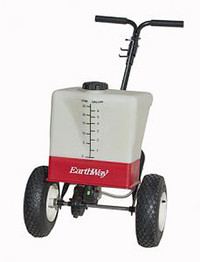 click image for larger view


Product rating:








Part number: ROC141

£699.61 inc. VAT

Description
The Ev-n-Spred S25 provides the convenient and accurate application of weed killers, fungicides, pesticides, fertilisers and is especially useful at distributing liquid ice melt. The Ev-n-Spred S25 is fited with a light adjustable single spray head and with interchangable nozzle options provide flexibility when spraying. The patented clutch driven gear pump provides high pressure with minimal push assistance. Suitable for all areas including gardens, allotments, bowling greens, golf greens, sports grounds, paddocks, pathways, carparks and drives.
Features & Benefits
Large 25ltr tank.
Adjustable spray width up to 1.5 metres.
33cm pneumatic tyres.
Self priming pump.
Return to tank agitation.
On/ off flow control.
Interchangable nozzles.
Sold individually.
FREE DELIVERY ON ALL ORDERS OVER £100 NET VALUE