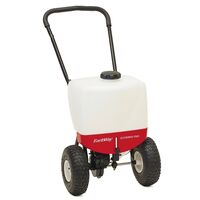 click image for larger view


Product rating:








Part number: ROC206

£489.40 inc. VAT

Description
The Ev-n-Spred S15 provides the ultimate compact push sprayer technology, and is ideal for spraying liquid ice melt. The S15 features EarthWays patented gear pump which is wheel driven via the EarthWay high speed gear box, and sprays out through a new height adjustable nozzle system. The S15 is a boomless sprayer and is capable of spraying in excess of 1.5 metres and as narrow as around 60cm. Suitable for all areas including gardens, allotments, bowling greens, golf greens, sports grounds, paddocks, pathways, carparks and drives.
Features & Benefits
Large 22ltr tank.
Adjustable spray height.
25.4cm pneumatic tyres and drive wheel.
On/ off flow control.
Interchangable nozzles.
Fully assembled.
Sold individually.
FREE DELIVERY ON ALL ORDERS OVER £100 NET VALUE