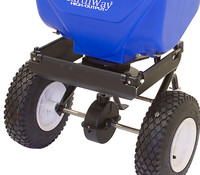 click image for larger view


Product rating:








Part number: ROC218

£107.14 inc. VAT

Description
The Ev-n-Spred 2130 Deflector Kit can be fitted to the Ev-n-Spred 2130 spreader and help flower beds and gardens from recieving unwanted ice melt. The deflector kit negates the use of the drop spreader turing the Earthway Ev-n-Spred 2130 into a dual use spreader. Simple and easy to install and remove.
Features & Benefits
Suitable for use with the Earthway Ev-n-Spred 2130 Spreader.
Sold individually.
FREE DELIVERY ON ALL ORDERS OVER £100 NET VALUE