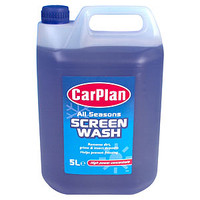 click image for larger view


Product rating:








Part number: ICE016

£9.16 inc. VAT

Description
Carplan All Seasons Screenwash removes dirt, grime and insect deposits. A highly concentrated windscreen wiper additive, that in use, quickly removes dirt, grime and insects deposits from windscreens, leaving a bright streak-free finish. All Seasons Screenwash also helps prevent the washer bottle contents from freezing.
Features & Benefits
High power concentrate.
Helps prevent freezing.
Sold individually.
Full case pack size - 4 x 5ltr.
How to Use
In normal summer conditions, use 10% concentrated screenwash to water to make up to 50 litres of mixture. In winter, increase concentration to 25% (or more) screenwash to water.
Please Note: If neat fluid is spilt onto paintwork rinse off immediatley with water. Store in an upright posistion and secure when transported.