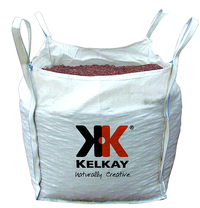 click image for larger view


Product rating:








Part number: ROC118

£331.43 inc. VAT

Description
Coarse Brown Rock Salt, is the ideal low cost solution to ice and snow de-icing. The blend of coarse rock salt, sand and special ice melting additives quickly and effectively clear ice and snow. The product can also be used as a preventitive measure, being spread on car parks, paths, pavements and walkways before the onset of ice, ensuring slippery conditions and accidents don't have time to occur. This large bulk jumbo bag elminiates the trouble of opening numerous smaller bags to fill bins or spreaders and is ideal for de-icing larger areas which may need covering such as car parks or loading bays.
Features & Benefits
Conforms to British Standard BS 3247.

Can be dispensed through all of our salt spreaders and spinners.

Effectively melts ice and snow in seconds.

Smaller 25kg sacks of Coarse Brown Rock Salt also available.

These bulk bags hold approximatley 1 metric tonne of rock salt.
How to Use
Spread the Rock Salt evenly covering the whole of the desired area, either by hand, using a scoop or shovel or in conjunction with one of our many rock salt spinners or drop spreaders. Any deep areas of snow will have to be cleared, via a snow shovel or plow, before the application or any rock salt, to allow it to penetrate.
FREE DELIVERY ON ALL ORDERS OVER £100 NET VALUE