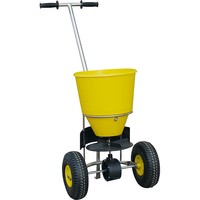 click image for larger view


Product rating:








Part number: ROC119

£391.70 inc. VAT


Description

The Atlas II Spinner Rock Salt Spreader allows large open areas to be covered evenly and accurately at walking pace with rock salt or grit, using less product than manual spreading would. Rock salt or grit is held in the large storage hopper, which holds up to 25kg of product, and is then gravity-fed on to a rotating disk, which evenly dispenses the salt away from the spreader. The spinner can dispense salt up to a diameter of 3 metres.

Features & Benefits
Large areas of ground are covered with minimal effort.

Large corrosion resistant hopper.

Large pneumatic wheels, allow excellent manoeuvrability.

Variable flow control, on handle, allowing total product control.

For use with all rocks salts, synthetic de-icers and grits.
How to Use
Before filling the hopper with salt or similar product, ensure the variable flow is set at closed. This will ensure no product is lost during the filling stage. Now manoeuvre the spinner to the desired location, such as the car park or pathway, and release the brake to allow the de-icer to begin being dispensed, pushing the spinner will allow the product to be cast up to three metres in distance. Continue until the whole of the desired area is covered in rock salt.
Once finished with, ensure the hopper, body and wheels are fully cleaned from any residual salt which may damage or corrode the machine is left over a period of time.
FREE DELIVERY ON ALL ORDERS OVER £100 NET VALUE