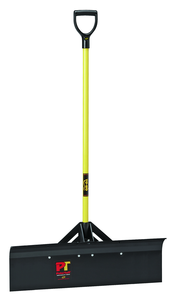 click image for larger view


Product rating:








Part number: ROC222

£140.99 inc. VAT

Description
The Polar Tuff Scraper features a 91cm (36") blade with a 137cm fibreglass handle with D-grip. The Polar Tuff scraper is excellent for the fast cleanup of snow during light snowstorms, covering a large area quickly. The blade is very durable with a fibreglass handle and D-grip for easy handling. Ideal when maintaining a pavement throughout the day for the safety of customers or school children. The scraper is excellent at covering a large area in a short amount of time.
Features & Benefits
137cm fibreglass handle.
30cm x91cm blade.
Sold individually.
FREE DELIVERY ON ALL ORDERS OVER £100 NET VALUE