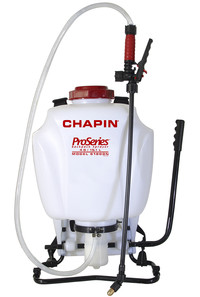 click image for larger view


Product rating:








Part number: ROC142

£140.36 inc. VAT

Description
The Chapin ProSeries 61800 Piston Knapsack Sprayer is the optimum solution for accurately applying liquid ice melt to problem areas. The sprayer features the best value application and performance with very low arm effort required to use. The large "No Leak" sealed 10cm opening to the sprayer allows easy refilling, with the Viton seals being almost totally corrosion resistant. The pressure pump lever can either be set to either the left or right hand side of the sprayer, allowing true user comfort and ease of use. The spray pressure can be manually adjusted dependent on necessity. Other features of the sprayer include a large cleaning aperture, a clamp holder for the spray wand, a long, clear, hose for greater reach, an ergonomically shaped container and wide padded comfortable shoulder straps.
Features & Benefits
Ideal for spraying liquid ice melt.
15ltr capacity.
Viton no leak seals.
Comfort grips and straps.
Easy pumping operation.
Adjustable spray nozzles.
Sold individually.