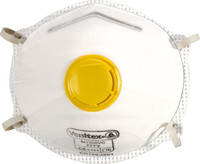 click image for larger view


Product rating:








Part number: RES187

£11.39 inc. VAT

Description

Venitex M1200V Face Masks offer FFP2 protection and are manufactured from non-woven synthetic fibre. The masks are moulded and feature a nose clip for comfort and adjustment. The nose clip has a foam edge below and a high performance exhalation valve.
Features & Benefits
Conforms to European Standard EN149.
CE marked.
Sold in cases of 10.
FREE DELIVERY ON ALL ORDERS OVER £100 NET VALUE