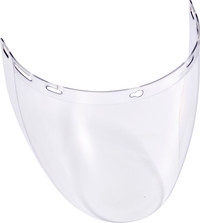 click image for larger view


Product rating:








Part number: EYE077

£14.65 inc. VAT

Description

Venitex Toric Visor is a clear polycarbonate injected visor for use in conjunction with the Venitex Visor Holder. The visor features electric arc protection with a universal fixing.
Features & Benefits
Conforms to European Standard EN166 and EN170.
CE approved.
Weigh 162g.
For use in conjunction with a Venitex Visor Holder.
Thickness 1.9/ 2.0mm.
Anti-scratch lens.
Metal melding projections resistance.
Sold individually.
FREE DELIVERY ON ALL ORDERS OVER £100 NET VALUE