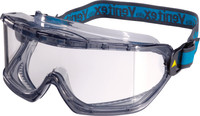 click image for larger view


Product rating:








Part number: EYE034

£6.88 inc. VAT

Description

Venitex Galeras Safety Goggles are manufactured from clear polycarbonate and feature indirect ventilation through a flexible PVC and nylon frame. The lens offers a wide screen with non-reflecting effect. The goggles have been designed to be adaptive for the wearing of corrective glasses and disposable respiratory half-masks.
Features & Benefits
Conforms to European Standard EN166.
CE approved.
Weigh 104g.
Anti-mist and scratch resistant lens.
Wide elastic strap.
Metal meldings projections resistance.
Sold individually.
FREE DELIVERY ON ALL ORDERS OVER £100 NET VALUE