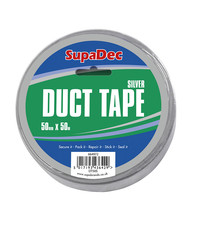 click image for larger view


Product rating:








Part number: TAP021

£6.96 inc. VAT

Description
Vinyl cloth reinforced tape with an adhesive backing. Duct tape is the ultimate maintenance aid, which is a must for any temporary repair work which may be required.
Features & Benefits
Width - 50mm. Length - 50m.

Extra strong, all purpose tape.

Fixes, bonds, mounts, repairs, joins and seals.

Black duct tape also available from stock.

Sold individually.
FREE DELIVERY ON ALL ORDERS OVER £100 NET VALUE