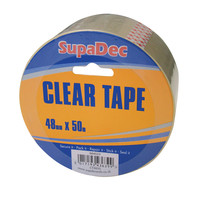 click image for larger view


Product rating:








Part number: TAP019

£1.63 inc. VAT

Description
Strong, clear, packaging tape. Fast grabbing and permanent adhesion. Ideal for box assembly and parcels. Suitable for use in conjunction with a tape gun or dispenser.
Features & Benefits
Width - 48mm. Length - 50m.

Buff packaging tape also available from stock.

Sold individually.
FREE DELIVERY ON ALL ORDERS OVER £100 NET VALUE