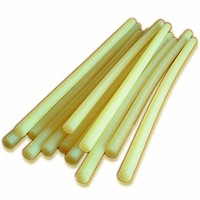 click image for larger view


Product rating:








Part number: FSS12

£40.13 inc. VAT


Superior fast setting hotmelt glue for rapid closing and sealing of cartons. Ideal for all packaging applications.

12mm Glue Sticks - Fast Setting Hotmelt Adhesive - Box of 170 (5kg per box)
* 5-10 sec set time
Tan set colour
Designed to fit the majority of glue guns on the market.
FREE DELIVERY ON ALL ORDERS OVER £100 NET VALUE