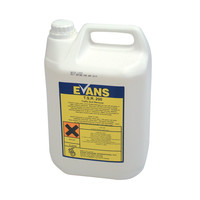 click image for larger view


Product rating:








Part number: VEH069

£10.61 inc. VAT

Description
Evans TSR 200 is a powerful, extra strength, heavy duty detergent for use with all types of high pressure power wash machines. Removes road film and general soiling from the bodywork of heavy goods vehicles, coaches, buses and tractors.
Features & Benefits
Quick, effective cleaning action.
For use on all types of heavy goods vehicles.
Suitable for use on curtain sided vehicles.
Ideal for removing heavy soiling from plant machinery and equipment.
Highly recoimmended for powerwashing floors and walls.
Concentrated formulation for extra economy.
Ideal for cleaning chassis prior to M.O.T. Inspections.
Has a pH of 13.3.
Full case pack size - 2 x 5ltrs.
Sodl individually.
How to Use
Heavy Soiling and Chassis: Dilute to 1:250 parts with cold water.
General Soiling: Dilute 1:500 parts with cold water.
Spray onto the surface ensuring all areas are covered with the solution. Leave for one minute and rinse thoroughly with clean water.
FREE DELIVERY ON ALL ORDERS OVER £100 NET VALUE