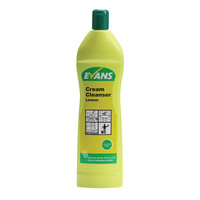 click image for larger view


Product rating:








Part number: HSC202

£21.61 inc. VAT

Description

Evans Cream Cleanser is a creamy liquid formulation, designed to clean a variety of hard surfaces. Suitable for use on cookers, sinks, baths and other enamelled surfaces, stainless steel, chromium, tiles and ceramic surfaces.
Features & Benefits
Versatile quick acting multi-purpose cleaner.

Removes stubborn dirt and grime.

Packed in easy to use, handy, 500ml polythene bottles.

Contains a pleasant lemon perfume.

Sold in full cases of - 12 x 500ml.
How to Use
Apply undiluted onto a damp cloth or directly onto the surface, rub gently to remove any stubborn marks and rinse with clean water. For that extra sparkle, polish with a dry cloth.
FREE DELIVERY ON ALL ORDERS OVER £100 NET VALUE