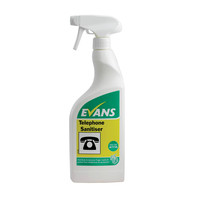 click image for larger view


Product rating:








Part number: POL157

£2.95 inc. VAT

Description

Evans Telephone Sanitiser is a highly efficient ready to use sanitiser for cleaning and disinfecting telephones, handsets, keyboards and the computer mouse. Will quickly wipe off finger marks and grease, kill bacteria and leave a clean fresh fragrance.
Features & Benefits
Ensures telephones and equipment are pleasant to use.
Helps overcome cross infection where multi person telephone use is in operation.
Kills MRSA and passes EN1276.
Contains a clean fresh perfume.
Also suitable for cleaning various hard surfaces in and around the office environment.
Sold individually.
Full case pack size - 6x750ml trigger sprays.
How to Use
Spray onto cloth & wipe telephone and audio equipment clean.
FREE DELIVERY ON ALL ORDERS OVER £100 NET VALUE