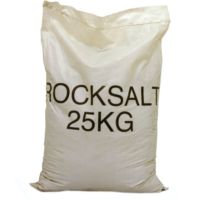 click image for larger view


Product rating:








Part number: ROC131

£467.12 inc. VAT


De-Icing Rock Salt - High Purity White Grit BS 3247 - Pallet of 50 x Large Bags
High Purity (99.5%) White Salt - Much cleaner and more effective than brown salt.
Doesn't clump or clog.
Suitable for use with our whole range of salt spreaders
Each bag weighs approximatley 20-25kg.
Equates to only £6.75 per bag.
We deliver to mainland UK - Please call us if you live in the Highlands, Ireland or Islands.
Delivery will usually take between 2-3 working days.
Next day delivery can be arranged. Carriage charges may apply.
FREE DELIVERY ON ALL ORDERS OVER £100 NET VALUE