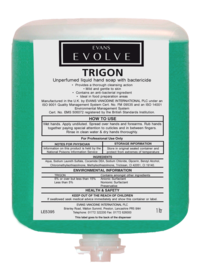 click image for larger view


Product rating:








Part number: HAN068

£22.19 inc. VAT

Description

Evans Trigon is a high quality unperfumed hand wash with an anti-bacterial ingredient. Ideal for use in food preparation and processing areas, nursing homes, schools and hospitals.
Features & Benefits
Provides a rich creamer lather and a thorough cleansing action.
Mild and gentle to skin.
Contains a special emollient for added skin protection.
Suitable for frequent hand washing, to help prevent cross infection.
Unperfumed, suitable for use wherever food is handled.
Has a pH of 7.5.
Also available as a bulk 5ltr bottle.
For use with the Evans Evolve Liquid Cartridge system.
Full case pack size - 6 x 1ltr.
How to Use
Wet hands and apply the hand wash undiluted. Spread evenly over the hands and forearms. Rub hands together paying special attention to cuticles and in between the fingers. Rinse in clean water and dry hands thoroughly. Following the completion of work, apply an after work cream, to add essential moisture back to the skin.
FREE DELIVERY ON ALL ORDERS OVER £100 NET VALUE