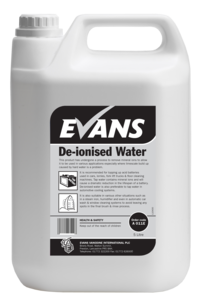 click image for larger view


Product rating:








Part number: VEH081

£4.31 inc. VAT

Description

There are many applications for Evans De-Ionised Water. Uses for de-ionised water include (amongst others) laboratory testing and analysis, ironing, cleaning and for creating smaller quantities of high quality solutions, such as standard volumetric solutions. Evans De-Ionised Water may also be purchased for calibration purposes, including calibration of scientific testing equipment
Features & Benefits
Suitable for use in batteries, steam irons and kettles.
Sold individually.
Full case pack size - 4 x 5Ltrs.
FREE DELIVERY ON ALL ORDERS OVER £100 NET VALUE