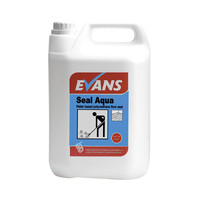 click image for larger view


Product rating:








Part number: FLO108

£74.15 inc. VAT

Description
Evans Sealaqua is a water based floor seal based on polyurethane and acrylic for the treatment of internal wood and cork surfaces. Quick drying and allows faster application of additional coats.
Features & Benefits
Provides a protective barrier to the floor, making it easier to maintain.

Produces a durable, slip resistant silk finish.

Non flammable, low odour

Easy to apply, quick re-coatability.

Can be used on top of conventional solvent-based floor seals.

Coverage per 5ltr - upto 100 square metres with 2 coats.

Sold individually.
How to Use
For best results, apply to a clean untreated floor surface. Use the product undiluted and apply a thin even coat with a floor seal applicator or clean, soft brush. Allow to dry for between 1 to 2 hours. Apply a second and third coat and allow to dry. If the floor is porous further coats maybe necessary. Drying times can vary depending on application, conditions, temperature and humidity. Sanding in-between coats is not necessary but a light sand with a medium grade floor.
FREE DELIVERY ON ALL ORDERS OVER £100 NET VALUE