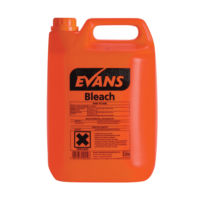 click image for larger view


Product rating:








Part number: DIS103

£4.07 inc. VAT

Description

Evans Bleach is general purpose product to help keep lavatories, drains and sinks clear of bad odours, waste matters and bacteria. It can also be used for wiping down hard surfaces, sanitising crockery, and removing tannin stains from teacups and teapots. Suitable for use in washrooms, toilets and kitchens.
Features & Benefits
Extremely versatile general purpose disinfectant cleaner.
Cleans and disinfects in one operation.
Kills a range of bacteria, fungi and viruses.
Ideal for soaking cloths and mops.
Has a pH of 12.0.
Sold individually.
Full case pack size - 2 x 5ltr bottles.
How to Use
SINKS, TOILETS & DRAINS: Use undiluted.
GENERAL CLEANING & DISINFECTING: Dilute upto 1:125 parts water. (40ml per 5ltr) or 3 capsful per 5ltr.
SOAKING MOPS & CLOTHS: Dilute up to 1:250 parts water (20ml per 5ltr) or 2 capsful per 5ltr. Soak for 30 minutes and rinse with clean water.
FREE DELIVERY ON ALL ORDERS OVER £100 NET VALUE