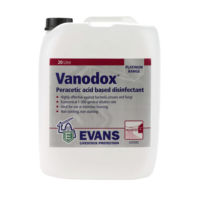 click image for larger view


Product rating:








Part number: DIS212

£203.69 inc. VAT

Description

Evans Vanodox is a stabilised blend of Peroxyacetic Acid in equilibrium with Hydrogen Peroxide and Acetic Acid, with a Nonionic Surfactant. It has a broad spectrum of activity and has been found to be effective against a wide range of bacteria, fungi and viruses, examples of which are:-
BACTERIA Staphylococcus aureus, Pseudomonas aeruginosa, Proteus mirabilis, Proteus vulgaris, Enterococcus faecium, Escherichia coli, Salmonella typhimurium, Salmonella choleraesuis, Bacillus subtilis, Bacilius cereus, Clostridium sporogenes, Lactococcus plantarum, Pseudomonas putida
FUNGI Saccharomyces cerevisiae, Candida albicans, Aspergillus niger
VIRUSES Newcastle Disease Virus, Foot & Mouth Disease Virus, Swine Vesicular Disease Virus, Coxackie B5 Virus, Rota Virus, Vaccinia Virus, Reo Virus, Infectious Bursal Disease Virus Dv86, Ecbo Virus, Aujeszky's Disease Virus, Swine Fever Virus.
Features & Benefits
Effective against bacteria, viruse and fungi.
Non-tainting and non-staining.
economical 1:250 general dilution rate.
Stabilised formulation.
Ideal for intensive livestock housing.
Has a pH of 1.4.
Sold individually.
Also available in a smaller 5ltr bottles.
How to Use
GENERAL DISINFECTION: For best results, surfaces should be thoroughly cleaned before disinfection. After removing heavy soilage use a heavy duty cleaner such as Evans Shift to remove remaining soil. Leave to dry and then dilute one part Vanodox to between 145 & 800 parts water, depending on disease prevalence and history, and apply by spraying at low pressure, to achieve complete coverage of all surfaces. Disinfected surfaces should be left to dry for as long as possible before re-stocking.
DRINKING WATER SYSTEMS: Drain system and flush with clean water. Fill the system with 1:250 solution and leave for 30 minutes. Flush through with clean water until traces of disinfectant have gone.
PORTABLE EQUIPMENT: Brush off as much dust and organic matter as possible. Immerse in a bath of Evans Shift at a 1:250 dilution with water for 30 minutes. Manually scrub in the solution to remove stubborn soil. Rinse off using a pressure washer if necessary. Immerse in a container filled with solution of Vanodox for 30 minutes. Remove and allow to dry in a clean area before re-installing
DISEASE CONTROL ORDERS: Ministry approved against Foot and Mouth disease orders at 1:800, Swine Vesicular disease 1:160, Diseases of Poultry 1:145 & General Orders at 1:256.
FREE DELIVERY ON ALL ORDERS OVER £100 NET VALUE