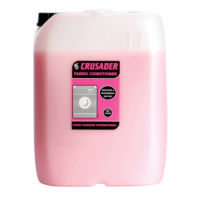 click image for larger view


Product rating:








Part number: WAS104

£45.55 inc. VAT

Description

Evans Crusader Fabric Conditioner is a very effective fabric softener developed for use in 'on premise' laundries, in hotels and healthcare establishments. For best results use in conjunction with Evans Crusader Laundry Liquid.
Features & Benefits
Effective on most fabrics including delicate articles.
Makes clothes pleasant to wear, bed linen and towels soft to use.
Reduces static cling in synthetic material.
Leave cottons and polyester cotton less creased and easier to iron.
Contains an appealing long lasting perfume.
Supplied in natural polythene drums to allow a visual check on contents.
Also available in smaller 10ltr drums.
Contains a pH of 3.0.
Sold individually.
How to Use
Crusader Fabric Conditioner should be dosed into the final rinse of the laundry programme at 5ml/kg of dry fabric. For larger machines it should be dispensed via a suitable dosing pump. Alternatively, it may be poured into the dispensing drawer.
DO NOT POUR DIRECTLY ONTO FABRICS.
FREE DELIVERY ON ALL ORDERS OVER £100 NET VALUE