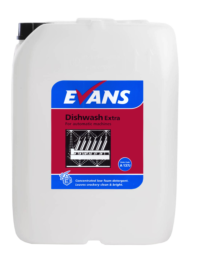 click image for larger view


Product rating:








Part number: WAS216

£55.61 inc. VAT

Description

Evans Dish Wash Extra is a concentrated, low foaming dishwashing detergent for use in all water conditions. Formulated to help resist tannin and provide the crockery with an extra sparkle. Suitable for use in all types of single and multi tank automatic dishwashing machines.
Features & Benefits
Cuts through grease and dried on food.
High active formulation, very economical.
Prevents soil and limescale being re-deposited.
Effective in even very hard water conditons.
Supplied in a natural see-through container to easily check the volume.
Has a pH of 11.5.
Also available in smaller 5ltr and 10ltr containers.
Sold individually.
How to Use
Dispense into automatic dishwashing machine through an electronic dispenser at a ratio of 1-3ml per litre, depending on soiling and water hardness, in accordance with the machine manufacturer's instructions.
NOT TO BE USED FOR HAND DISHWASHING OR IN DOMESTIC MACHINES.
FREE DELIVERY ON ALL ORDERS OVER £100 NET VALUE