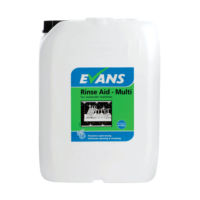 click image for larger view


Product rating:








Part number: WAS018

£29.03 inc. VAT

Description
Evans Vanodine

Dish Wash Multi is low foaming dishwash detergent which has been formulated in unison to provide an effective cleaning performance. The specially chosen blend of ingredients will ensure that crockery, glassware and utensils are thoroughly clean, bright and hygienic.
Features & Benefits
For use in all types of single and multi tank automatic dishwashing machines.
Prevents scale formulation and the re-deposit of soil.
Leaves crockery and glassware sparkling and streak free.
Ideal for use in soft to medium water conditions.
Also available in smaller 5ltr bottles.
Sold individually.
How to Use
Dispense into automatic dishwashing machine through an electronic dispenser at a ratio of 1-3ml per litre, depending on soiling and water hardness, in accordance with the machine manufacturer's instructions.
FREE DELIVERY ON ALL ORDERS OVER £100 NET VALUE